Hidden gems in your favourite genre
This weekly meme is held over here on Goodreads! https://www.goodreads.com/topic/show/17029032-welcome-to-t5w-rules-guidelines—updated-2015 This week's topic is "Hidden Gems in your Favourite Genre".
---
All for the Game! By Nora Sakavic
These books are definitely underrated and I just can't understand why. The writing is superb, and the characters are all amazing in their own way. They are unique with their own back stories and each have defining qualities that make them stand out. You can't help but fall in love with all of them, and just want them to have the best they can.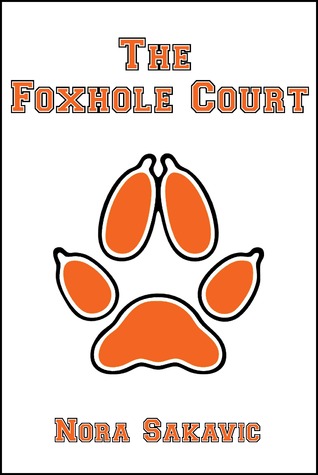 Neil Josten is the newest addition to the Palmetto State University Exy team. He's short, he's fast, he's got a ton of potential—and he's the runaway son of the murderous crime lord known as The Butcher.

Signing a contract with the PSU Foxes is the last thing a guy like Neil should do. The team is high profile and he doesn't need sports crews broadcasting pictures of his face around the nation. His lies will hold up only so long under this kind of scrutiny and the truth will get him killed.

But Neil's not the only one with secrets on the team. One of Neil's new teammates is a friend from his old life, and Neil can't walk away from him a second time. Neil has survived the last eight years by running. Maybe he's finally found someone and something worth fighting for.
---
The Morganville Vampires, by Rachel Caine
Granted, I haven't carried on reading this series for a while yet but when I did last I really enjoyed it. Especially after the Vampire Diaries books were such a disappointment to me, I really loved that I could find a vampire series that offered more diversity and characterisation.
From the author of the popular Weather Warden series comes the debut of an exciting new series set in Morganville, Texas, where you would be well advised to avoid being out after dark.

College freshman Claire Danvers has had enough of her nightmarish dorm situation. When Claire heads off-campus, the imposing old house where she finds a room may not be much better. Her new roommates don't show many signs of life, but they'll have Claire's back when the town's deepest secrets come crawling out, hungry for fresh blood. Will she be able to face the town's terror or will she drown like everyone else?
---
Wings, by Aprilynne Pike
I'm more curious to see if anyone else has read this series! I remember enjoying it a lot, as it was around the same time I discovered Twilight and my love of reading. It has everything I loved at that time, a "different" female lead, fairy fantasy stories and a love triangle.
Laurel was mesmerized, staring at the pale things with wide eyes. They were terrifyingly beautiful—too beautiful for words.

Laurel turned to the mirror again, her eyes on the hovering petals that floated beside her head. They looked almost like wings.

In this extraordinary tale of magic and intrigue, romance and danger, everything you thought you knew about faeries will be changed forever.
I'm actually struggling to think of any others! I think it's because I mainly listen to what other people are reading and follow good reviews, so I don't discover any new authors by myself. Maybe that should be something I try to do now! I should definitely try to read things that aren't as hyped, and are by new authors etc.