I received this book as part of a Fairyloot box, within the theme for "Ladies that slay".
Book: The Last Namsara
Author: Kristen Ciccarelli
Year: 2017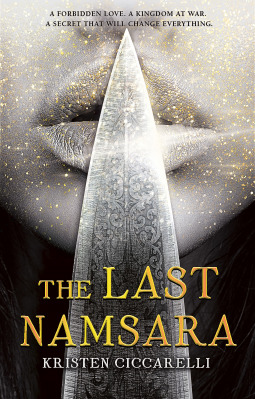 Synopsis: In the beginning, there was the Namsara: the child of sky and spirit, who carried love and laughter wherever he went. But where there is light, there must be darkness—and so there was also the Iskari. The child of blood and moonlight. The destroyer. The death-bringer.

These are the legends that Asha, daughter of the king of Firgaard, has grown up learning in hushed whispers, drawn to the forbidden figures of the past. But it isn't until she becomes the fiercest, most feared dragon slayer in the land that she takes on the role of the next Iskari—a lonely destiny that leaves her feeling more like a weapon than a girl.

Asha conquers each dragon and brings its head to the king, but no kill can free her from the shackles that await at home: her betrothal to the cruel commandant, a man who holds the truth about her nature in his palm. When she's offered the chance to gain her freedom in exchange for the life of the most powerful dragon in Firgaard, she finds that there may be more truth to the ancient stories than she ever could have expected. With the help of a secret friend—a slave boy from her betrothed's household—Asha must shed the layers of her Iskari bondage and open her heart to love, light, and a truth that has been kept from her.
Review: I had high expectations when it came to the main character, Asha, due to the theme of the fairyloot box. I always find that women have so much more depth to them when they're written about – maybe I'm just biased! Reading about her character development and viewing her opening up to others, was really interesting and moves the story along. When you can see that a character has adapted along with the narrative, and has changed somewhat by the end, then you know that it has been an effective storytelling. Her relationship with Torwin is definitely worth a mention. I loved the way they were written together and the forbidden love trope was a lovely addition. All I wanted to do was carry on reading and dive into their blossoming love even more. A great pairing that I will always remember, they were just so well suited for each other and I found myself re-reading their moments together.
I do think it's also worth a mention, that the minor characters weren't as well developed or looked at. For me, I often find that there's two extremes and it's hard to find the perfect middle. Either the minor characters are so well written about and included, that it's hard to distinguish who are supposed to be the mains; or, they're hardly there which makes their token parts in the book more obvious.
The narrative and story was so interesting in itself. The story was so imaginative and thought through so well. At no point was I confused and had to go back or rethink the narrative. Having the stories in between chapters added to the feel of Legends and also gave little hints to the direction of the story. I loved the fantasy feel of the dragons and getting completely sucked up into a new world. Kristen's writing was light and enjoyable, it was clearly obvious that she had put a lot of thought into each of her descriptions. It meant that her narrative always had a purpose and there was no jargon obstructing the reader.  Even the most basic of descriptions and actions seemed important and interesting to read. This was particularly important because the first half was slow, which meant that the reader needed some motivation to carry on.
The first half of the novel, as stated, was quite slow, but I didn't mind this too much because I could tell there was a sense of purpose and that I was being slowly lead along. Normally, I find plots far too easy to guess and they end up cliché while feeling similar to something I've already read. I much prefer something that leaves me guessing and wondering where it's going to take me.
The twists in the story were also unpredictable, and once you got to the second half they were coming in quick and fast. It meant that my shocked and disorientated state was similar to Asha's and it always makes you feel even more connected to the characters.
Rating: A thoroughly well thought out world and plot, that lead you at a comfortable pace with some surprising twists, to a pleasing finish. The main characters were plotted and created really well, with some details lacking on the minors. Overall, a very enjoyable finish and well structured novel. I ended up really, really liking it. 4.5 Stars.
---